Do you frequently travel to San Sebastian for professional reasons? This room has been designed for you to work comfortably and feel at home at the same time!
Room
Double room with balcony
Feel the heartbeat of Donostia from the balcony of your room, and when it's time to rest, enjoy all the comforts we have prepared for you.
Room
Double with extra bed
We don't believe in uncomfortable extra beds. We believe in spacious rooms and comfortable beds for all our guests.
Views of the centre of San Sebastian, extra space, personality and everything you need to create memorable memories in great company.
Welcome pack for our guests
01
R
Relax in our very comfortable rooms and discover what it's like to rest in comfort and style in the heart of San Sebastian!
At Casa Nicolasa we take care of every detail so that you can recharge your batteries and fully enjoy our charming city.
Details make the difference
02
W
e know there's nothing like being at home, but at Aldamar we want to do everything we can to make you feel at home.
For you, we have created magical spaces full of details that bring personality and warmth to your new environment: local motifs, wood, earthy colours, spacious wardrobes, etc. …. Feel at home after a long day of work and/or fun in our incredible city!
Replenish your energy in the centre of Donosti
03
W
e believe that after an intense day of fun and/or work in San Sebastian you deserve a good rest!
All rooms at Pensión Aldamar have been soundproofed with top quality windows and equipped with extra-large beds with viscoelastic mattresses and soft bedding.  And now, all you have to do is adjust the silent air conditioning in your room and get some rest!
High-speed Internet connection
04
D
o you need to keep in touch with your family and friends, do you like to stay informed, are you travelling to Donosti for professional reasons?
Pensión Aldamar has free high-speed WiFi connection in your room and common areas. Disconnect or connect comfortably whenever you want.
It's your break, you decide!
05
A
t Pensión Aldamar you won't have any unexpected (and unpleasant!) last minute surprises. Because we know how important the correct distribution of the beds in your room is for you.
At Pensión Aldamar, chance does not come into play. When you choose either single beds or a double bed, we follow your instructions – that's the Aldamar commitment to our guests!
Previous
Next
Aldamar Rooms
Are you closing an endless day of work in San Sebastian? Have you been exploring our beautiful city all day?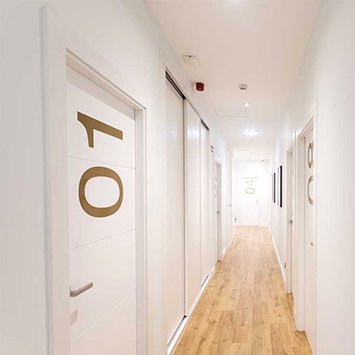 The long-awaited moment of relaxation has arrived in your very comfortable room at Aldamar!
Rest and recharge your batteries in comfort and style in the heart of San Sebastian!
The new boutique hotel has 10 rooms completely refurbished and equipped with all the details that guarantee an unbeatable stay for today's demanding client. Today, there are those who say they feel as good as in a 5-star hotel! Find out why!